The Wonki Ware Story
Di Marshall lives in George, a small town situated 430km east of Cape Town along the Garden Route in South Africa. In 1999 she started a small pottery studio in the town centre to keep herself occupied while her children were at school. Originally, she commuted from her farm to town each day to work in her studio in the morning and return to the farm in the afternoon. Over time, her studio attracted the attention of the local community and became a meeting place for other potters and creative individuals.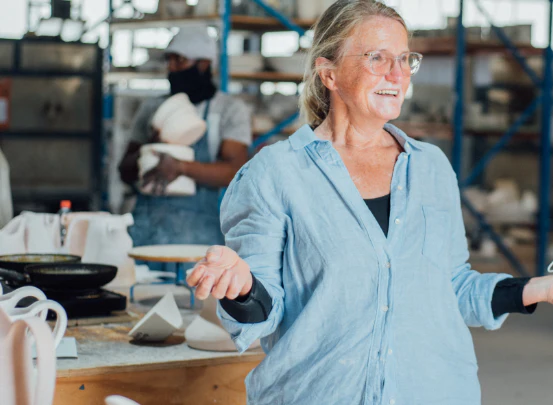 what's in a name?
"As creative things happen, it just comes to you – so we made plates, and we thought, what does it look like? It looks wonky! It was that simple."
- Di Marshall
One morning, a young Xhosa man named Artwell Lulamile Mthonjeni arrived looking for work. Despite not generating much income, Di began teaching him about clay and developed a method of making pottery that Artwell could replicate. Soon, they began producing sensitively worked platters and bowls using patterns that were relatively easy to reproduce but captured a sensitivity in design. Les Campbell also joined the team after walking into the studio and painting a plate.

Together, the three became a formidable pottery team that attracted people from all over the country. A name was quickly found and as creative things happen, it just comes to you - they made plates and thought "what does it look like? It looks wonky". And that is how the name Wonki Ware came about.

Janice joined as their first agent and representative, leading to their pottery being showcased in prestigious stores throughout South Africa. Over time, Wonki Ware became a successful business, employing around 80 people from disadvantaged backgrounds who are now skilled employees in their trade.

Today, Wonki Ware is a product that Di feels proud to have created and can hand over to her skilled employees. The vibrant, warm spirit of Africa is visible in their pottery, and Di is grateful for the enthusiasm and love that South Africans have for their work.